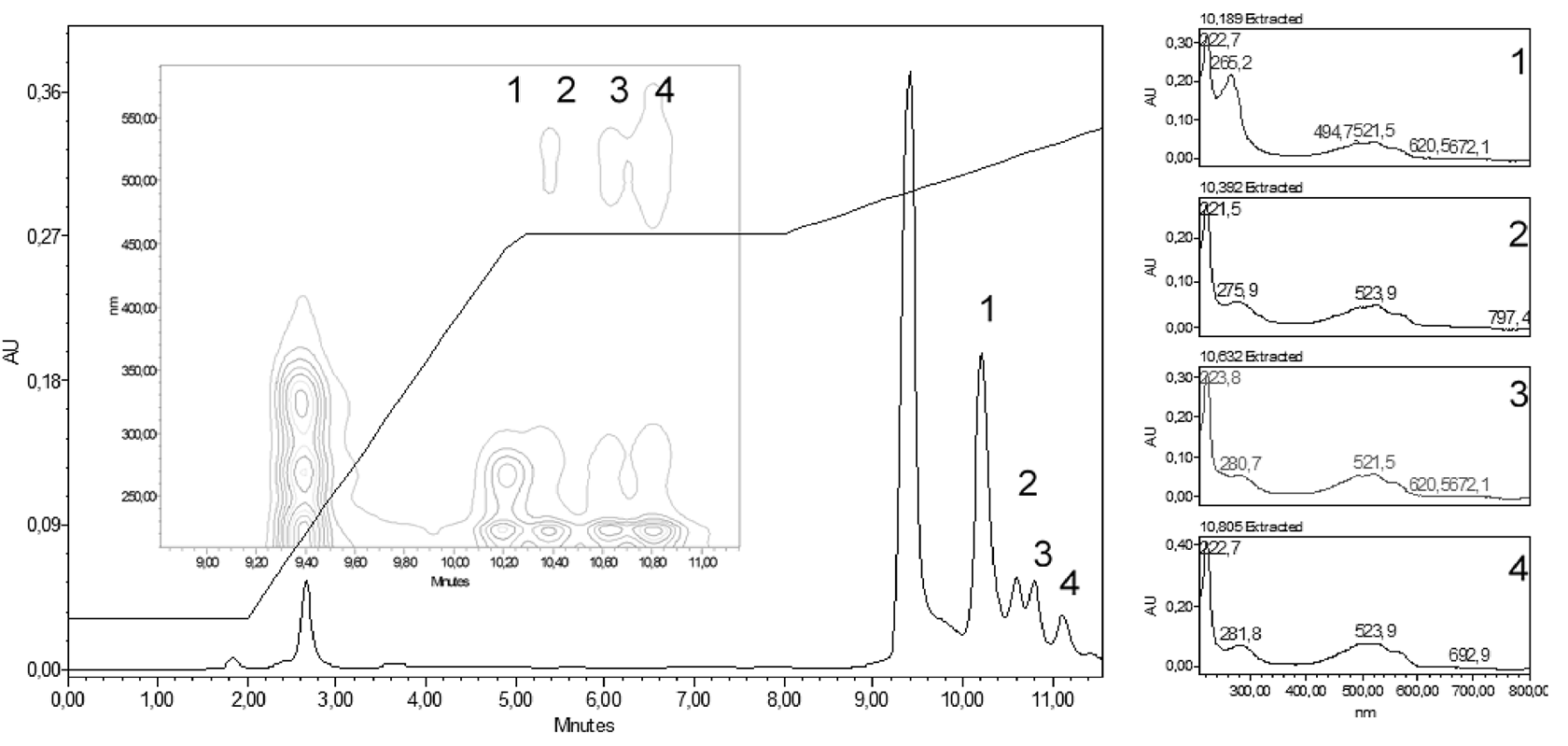 DESCRIPTION

If you need to detect or quantify a product through chromatography techniques or if you are thinking of buying a chromatograph to carry out specific analyses, you can ask for our advice on the following techniques:
Liquid Chromatography HPLC
Liquid Chromatography coupled to Mass LC-MS
Gas Chromatography GC
Gas Chromatography coupled to Mass GC-MS
Video 1. Liquid chromatography is a type of analytical method generally used to identify compounds in a sample. To this end, it is not necessary to collect each of the analytes that elute from the column because the information collected from the detectors comparing it with either standards or references is enough for their identification. If chromatography is applied in order to separate compounds to isolate them in sufficient quantity for different analyses or tests, it is necessary to use chromatographic columns that can accept a large sample volume. This is known as PREPARATORY CHROMATOGRAPHY. Video 1 shows how the compounds that elute from the column are collected at different retention times. Several injections are performed and collection is done at the same time.
Video 2. To eliminate the mobile phase of each of the fractions collected in the different tubes, either evaporation or rotoevaporation is commonly used at reduced pressure. The contents of the tube are placed in a spinning balloon submerged in a bath at a temperature that prevents compound decomposition (typically 45ºC). The balloon is subjected to vacuum, as shown in Video 2, so that the solvent passes to the vapor phase and is condensed in a refrigerant. The solvent is thus collected in another container to be further discarded.
We can advise on:


Selection of the most convenient chromatography technique taking into account the sample type and its origin, namely food samples, environmental samples, pharmaceutical products and products from other industries, agricultural and vet products, biological samples.
Selection of the method: column selection, solvent, gradient, detectors.
Sample preprocessing.
Basic issue recommendations on equipment operation, handling and maintenance of the chromatograph, columns and injectors.
Examples of chromatography applications
PROFESSIONAL
Dr. María Soledad Vela Gurovic
CONTACT
Dr. M. Soledad Vela Gurovic
CERZOS - CCT BB - CONICET
Edificio E1 - Camino La Carrindanga Km 7
8000 Bahía Blanca, ARGENTINA
Tel.: ++54 291 4861666, Ext. 180/188